Manufacturing / Collaboration
Challenges
A prominent North American manufacturing company, with multiple offices including nternational locations, had an aging phone system which was in imminent danger of failure. The aging system consisted of a PBX at the corporate location and key systems at each of the remote locations preventing a consistent dialing plan. In addition, this obsolete system was inhibiting the customer's efficiency due to its lack of flexible collaboration features.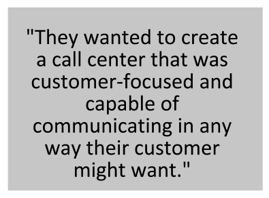 The customer's call center was also in need of modernization.
They wanted to create a call center that was customer-focused and capable of communicating in any way their customer might want. They were looking for call center features including CRM, screen pops, call recording, web chat, and multi-platform communication.

The customer recognized the high cost of being unable to do business in the case of an emergency or natural disaster. A damaged data center would render their business inoperable. They required an option that would enable them to quickly and smoothly shift their business operations in a disaster situation.

Solutions
Network Solutions, Inc. (NSI) was engaged by the customer to participate in offering options to solve each of these challenges.
Network Solutions responded by spending time listening to the customer and learning about their business model, their challenges and the goals they hoped to achieve by reaching out for help from NSI.

Once they felt they fully understood the customer's business challenges and the solutions they were hoping to achieve, NSI were ready. NSI proposed a fully redundant data center infrastructure refresh designed to support the fully featured collaboration solution the customer needed for both their internal business communications and their contact center. By housing the redundant data centers in different geographic locations, the customer would now be safe from a "network down" disaster. A smooth transition from the effected data center to the unharmed data center would allow business to continue as usual.

Results

Network Solutions, Inc. initiated a pilot implementation to verify their understanding of the customer's business needs would in fact achieve the goals of the client stake holders.

The collaboration solution started with voice over IP which served to provide a rich communication feature set that the customer had lacked as well as saving NSI's customer money by dramatically reducing the overhead associated with dedicated PRI lines required for the old analog phone system. The new system allowed a company-wide comprehensive dialing plan.

The fully capable collaboration solution implemented company-wide also enabled the customers contact center to become a true contact center by enabling the client's customers the flexibility to communicate any way they choose.



By implementing Webex collaboration company-wide, NSI's customer now has full content sharing and video collaboration across their thirteen locations across North and South America. Their ability to work together and share information without leaving their desks saved the client both in employee hours and travel expenses. The customer is now capable of getting to market much more quickly as ideas and concepts move from concept to reality far more quickly.

By duplicating the data center in two locations, the customer is now capable of rerouting voice, video and data traffic within minutes in the eventuality of an emergency or disaster. Their fully redundant data center infrastructure is the foundation that supports the feature rich solutions provided by Cisco's collaboration platform.

At the completion of the pilot implementation the client was excited and eager to complete implementation across their entire company WAN. Network Solutions, Inc. also implemented managed services for the WAN routers and switching infrastructure.