NSI Achieves Cisco Master Collaboration
Specialization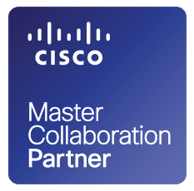 Network Solutions, Inc. is pleased to announce they have achieved the
Master Collaboration Specialization from Cisco®. This specialization distinguishes NSI as Master-level business experts. "The questions the auditors asked us forced NSI to really focus on helping the customer to transform their business, not just replace old phone systems with new phone systems. It's really about enhancing the customer's business and improving the way they do business; their internal processes and their interface with their customer", said Bob Tadevich, President of Network Solutions.
Network Solutions successfully demonstrated strengths in technical excellence, as well as master-level processes ensuring an extraordinary customer experience through an intensive two-day, third party audit. Audit results revealed Network Solutions exceptional competency in the design, deployment, and support of intricate application-based Cisco Collaboration solutions.

The audit process required meeting stringent parameters demonstrating the ability to deliver measurable business value, Master-level technical, and services capabilities.
Bob said he is "incredibly thankful for the team at NSI who spent countless hours working towards the Master Collaboration distinction." He says, "Our team did not do B+ work, they did A+ work. I'm very proud. I'm thankful for their unselfish willingness, and team effort, and I'm thankful for their abilities."
More information regarding the Master Collaboration Specialization can be found at: http://bit.ly/2byHXMv
About Network Solutions, Inc.
Network Solutions, Inc. specializes in creating positive business outcomes by
implementing empowering technology solutions. "WHY we do is as important as WHAT we do". Designing and deploying the right solutions for the right situation at the right time can improve organization's employee productivity, reduce expenditures, improve time to market and reduced risk.
NSI's key areas of expertise include, design, implementation and support of network infrastructure, data security, collaboration technologies, holistic data center solutions and wireless networking.