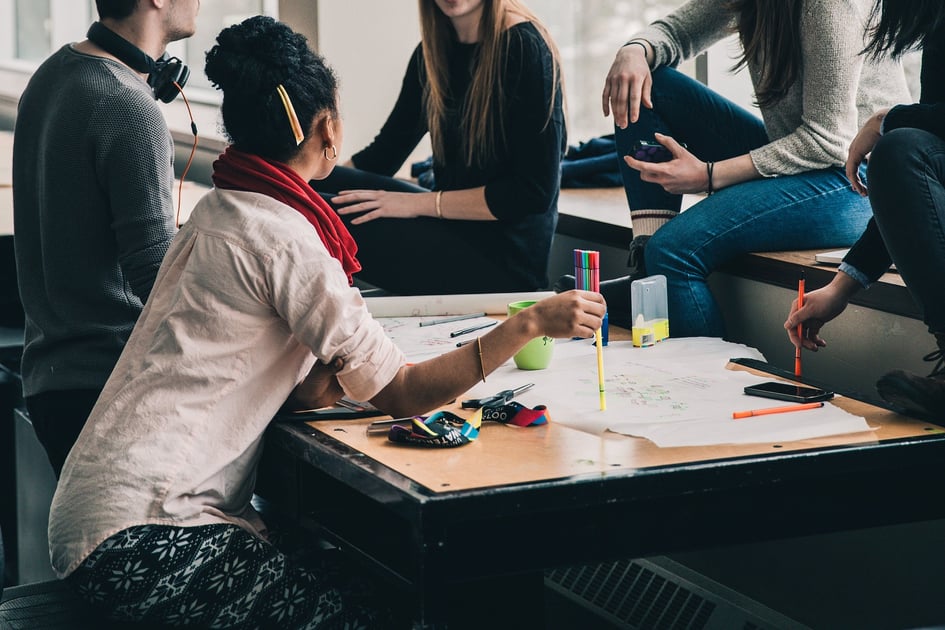 INVITE THE RIGHT PEOPLE
Meetings. Meetings. Meetings. They can be helpful but how many times do you end up leaving the meeting more confused than going in? We've all been there and meetings can eat up your employee's time and consequently – your wallet. In a recent study, 35% of respondents called meetings a waste of time. Why do over a quarter of your employees find meetings a waste of time?
Often it's because the right people aren't being invited. I can't tell you how many times that I've been in a meeting and a quarter of the way through I find out it has nothing to do with me.
It's a meeting, not a party! Utilizing collaboration tools can give you a huge advantage as well. Applications like WebEx Teams give you the ability to remotely hold a meeting where specified attendees are able to join or leave at their discretion. Don't lock an employee into a 40-minute meeting if they only need to be there for 10 minutes of it
.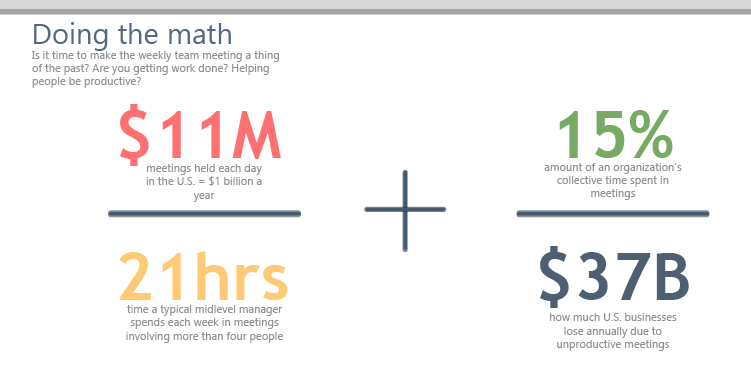 SET AN AGENDA
3 out of 5 people multi-task when in a meeting. We've all done it. But that ends up being a drain on your resources. If people are multi-tasking in meetings, they aren't accomplishing the goals of the meeting. Foster a culture that encourages agendas and send your agenda to all meeting attendees.
One thing next-generation collaboration tools like WebEx Teams offers is the ability to set a clear agenda, notify attendees beforehand and have it live in the meeting notes so it can easily be referenced. Using these tools makes being organized easier.
SET THE LENGTH TO MATCH THE GOAL
Don't try and cram 42 agenda items (you made one, yay) into a 30-minute meeting. Reserving space in a conference room can be a cat and mouse game and reserving it for 30 minutes and only using 10 is a waste of resources. However, it may be difficult to gauge exactly how long something may take. The beauty of online collaboration tools is never having to reserve a physical venue. Your meeting space is always available no matter what else is going on in the company.
Collaboration tools like WebEx Teams give you the power to build a "conference room" virtually and host collaboration sessions within those rooms. Teammates utilize video, voice and a virtual rooms to maximize their time while not being locked into a physical resource. Best part? The entire room and all the interactions can either be saved or securely deleted. No more pictures of the whiteboard or frantically following along and trying to be organized. Wish you could remember what your teammate said but didn't write it down? Refer to the recorded session! These tools are designed to make your life easier and give the ROI that meetings need.
HAVE THE RIGHT TECHNOLOGY
Your tools need to be able to grow with your business. Today's work environment requires more collaboration than ever and video is here to stay. Utilizing video delivers an 83% engagement rate and focuses the attendee's attention on the presenter instead of whatever else they're doing. However, not all video is created equal. In our own organization we have found that 100% video isn't always right so we utilize collaboration tools that do more. Using different forms of media to collaborate can actually increase engagement and idea generation. Having the time to think a problem through and collaborate through instant messaging is invaluable but in some cases your need the rapid back-and-forth that video provides.
We have chosen WebEx Teams as our go-to solution for business collaboration because it gives us the ability to save resources. By not requiring a physical conference room for every meeting allows teams more flexibility in their choice of meeting time, duration and location.
If you'd like to talk with one of our highly-certified collaboration engineers – we would love to explore if this can help increase your ROI! We can setup a short 30-minute walk-through of the product so you can see it first-hand.