Creating an

Extraordinary Customer Experience
The NSI Service Desk portal is a dynamic tool that will provide a view of tickets for customers who have managed service contracts with us! We are so exited to push our redesign live and show you how working with NSI just got that much easier. (Until our mobile app comes out but keep that on the hush hush).
Login
Users login from www.nsi1.com site and then click the Login button (see note below).
Username: Provided by the Network Solutions, Inc. Account Manager.
Password: For the first time sign on use the username as the password.
Click on Login
Tab to the New Password field and key in the new password.
Click on Update
Welcome to Your New Dashboard
There is a Welcome Widget that is displayed on the screen as well as some "default" widgets: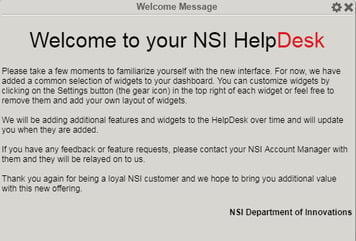 Creating Your Dashboard
The Dashboard is populated with some "common" widgets for your convenience. Every customer that uses the dashboard can customize it to give themselves a quick view of all their tickets. This ability gives the engineers the ability to have full visibility into their projects and relay that to the management team in a timely fashion.
When you initially sign onto the NSI Service Desk portal the following screen is displayed: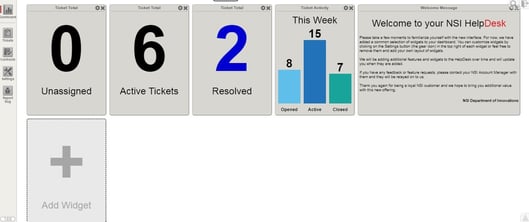 Viewing Your Tickets
We want our managed service customer to have everything they want to know at their fingertips. Our ticket portal gives you the ability to see who requested to open the ticket, which engineer is working on it, the ticket status an even more.
Click on the Tickets icon in the menu to the left of the display window. All of the tickets that are assigned to your company will appear in the display window.

And when you click on each ticket, you get a detailed look at what has happened with that ticket and what converstations have taken place between our engineers and your staff.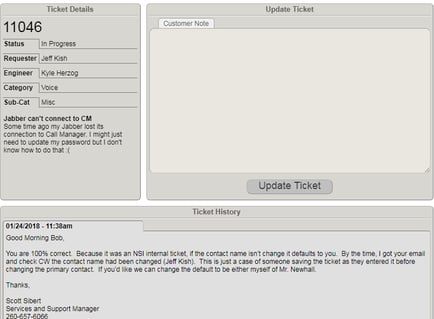 Add A Ticket
Adding a ticket has never been easier. Simply click the + at the top of the page that lists all of your tickets. This will open New Ticket form.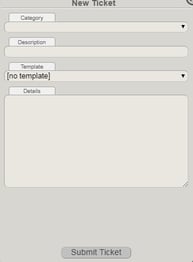 Fill in the Category from the drop down.
Fill in a detailed description of the issue
Leave the Template blank
Fill in the details of the issue and click on Submit Ticket.
The new ticket will be added to the top of the ticket listing.

The Status will be updated as the ticket progresses through our system.
The Engineer will also be assigned and the Age will progress.

An email will be sent to you once the ticket has been accepted by the engineer.

The subject line will contain the ticket number.
The body of the email will contain the information from the ticket
We have some ambitious goals for 2018 and they all begin with our customer. We are dedicating 2018 to fulfilling our promise of giving you an Extraordinary Customer Experience.
---
WHY

we do is as important as

WHAT

we do