Are you jazzed up for HECC 2017 in Indianapolis? We are! HECC is a conference where K-12 professionals are able to find out what's new in education and how technology can improve how students learn and schools improve. This year, we have some really exciting things that will make everyone's lives a little easier and more intuitive.

Here are a few things that we are really jazzed about and we can't wait to talk about them.
Spark
Spark is a collaboration tool that solves the pain of educators. How can students, teachers, and administrators collaborate when it's impossible for them all to have the same exact tool or be in the same room? Spark is a tool that aims to solve these issues. A collaboration application, Spark can be used in tandem with Cisco's new Spark Board to create a consistent experience across platforms. Wirelessly present, white board, and video or audio conference – everything you need for education, all at the touch of a finger. Use the Cisco Spark app to connect to students and educators outside the physical room, through the devices of your choice. This large 55 or 70-inch smart "whiteboard" has the capability to do real-time collaboration on-site or remotely. It comes loaded with Cisco's Spark application that gives you all the bells and whistles to collaborate on-the-go using the mobile app or anywhere the app can be installed.
This platform allows teachers in the classroom to create, share and save their work so students don't have to try and sloppily copy down notes from a classmate or key whiteboard demonstrations aren't gone to the wind once the board is erased. All of this is done in a "Spark Room" where a secure connection is made for as long as you want and those invited are the only ones able to join. And when you're done with your project – just tear it down.
This tool also gives classrooms the ability to collaborate in real-time. With state-of-the-art camera tracking, it is able to focus the attention on those presenting to give a more in-depth collaboration experience. This piece of tech gets rid of the clunky "smart boards" and replaces them with a more intuitive and functional design.
We will be doing Spark Board demonstrations at our booth during the HECC conference so come check it out and play around with it. Let's collaborate!
Come join NSI and Cisco at 8:00 am on Friday morning, November 10th to hear Cisco Education Collaboration Specialist, Jared Heiner demo Spark and Spark Board!
Demystifying Disaster Recovery
We are to feature our very own Data Center Architect, and CCIE, Jeff Kish, who will be providing the 4-1-1 on how a Disaster Recovery plan SHOULD be designed and what you can do to reduce your risk.
A well planned disaster recovery plan is critical for any organization. We are constantly bombarded with news of some devastating ransomware attack, natural disaster, or power outage that effects businesses around the globe. Having a proper DR strategy gives your business the resiliency needed to avoid catastrophe.
Come hear Jeff's present, "Demystifying Disaster Recovery", on Friday 11/10 at 10:15 am and learn how your business continuity plan can reduce your risk and get you back in the game fast!
HECC Wireless Central
Network Solutions is once again proud to provide the wireless network access for the HECC show in 2017! Our staff of experts creates a solid, temporary, wireless network to support the over 1000 attendees for three days as they attend concurrent sessions, and visit the show floor! Led by our Enterprise Network Architect, and CCIE, John Meachum, team NSI designs, configures and implements the temporary HECC wireless network throughout the show and hotel premises. HECC attendees are in excellent hands for connectivity in Indianapolis this week! Come chat with John about his design and implementation of the HECC network as well as the core of the network that is featured in the Network Solutions booth (#15,16,17, and 18)!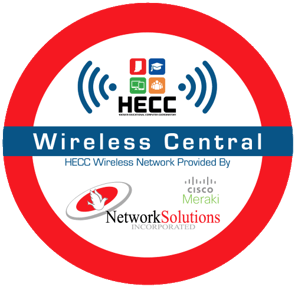 We can't wait to see you all and look forward to serving you at HECC this week!