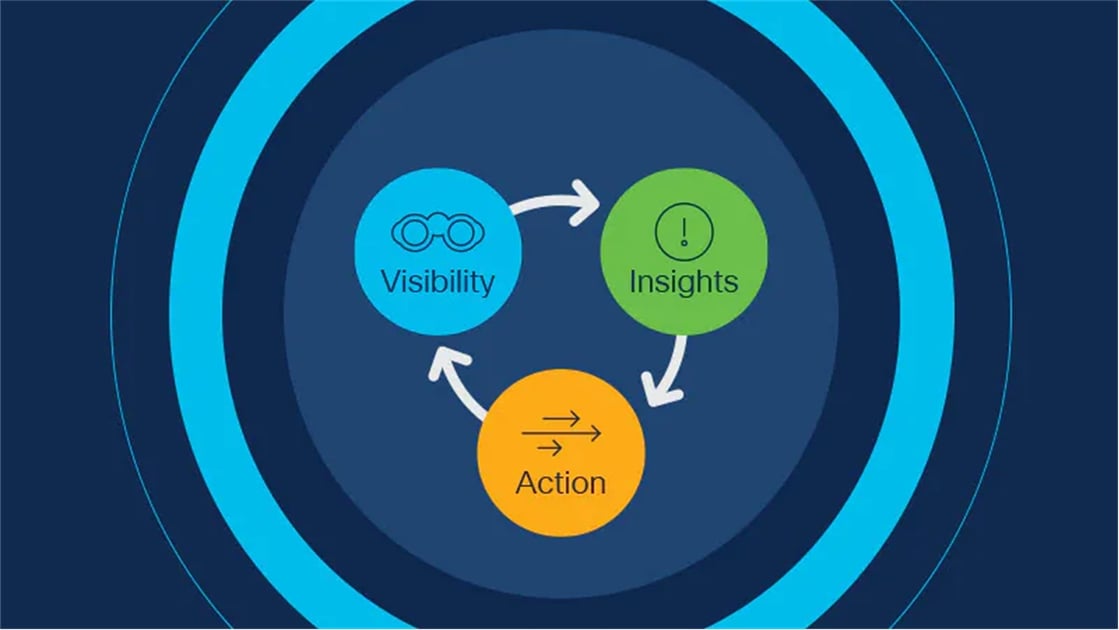 Today we live in an app-first world. Apps help businesses thrive and make life simpler for customers. Take grocery shopping, for example, with a few taps on your mobile device, you can get groceries delivered to your doorstep in a matter of hours, but problems can arise. Stopping the order from going through the problem could be the app itself, a malware attack, the user's network connection, a data center issue, a cloud service issue, or a range of other problems. All the shopper wants is to get their groceries and the business wants the sale.

That's where full-stack observability comes in. Giving insights to find the problem and the intelligence to take action across the stack for performance optimization and security. Cisco has the solutions to help businesses do just that, from AppDynamics, which gives real time alerts on application performance and security incidents, to ThousandEyes which gives businesses unparalleled visibility into internet slowdowns that can impact cloud and SaaS experiences. Add in Intersight, which optimizes and automates multi-cloud infrastructure changes that need to be made to improve an apps performance.
The demand for observability solutions is being driven by a variety of factors centered on growing demand for digital services and the increasing complexity of IT systems and applications.
These factors include:
The number of apps that organizations need to manage is at an all-time high and continues to grow.

User expectations have never been greater, and customers are quick to switch tools due to bad experiences.

Development teams are constantly modernizing apps to reduce release and refresh cycles.

IT teams must now manage traditional and cloud-native apps.

Cloud services and third-party API utilization are growing.
Such factors result in more complexity, dependencies, and points of failure within a distributed architecture.
A Cisco survey of over 1000 global IT decision makers found the rapid rate of innovation and digital transformation over the course of the pandemic has created a significant increase in IT complexity.
This, in turn, increases the amount of data created across the technology stack—from the application through the infrastructure to the network and security. Organizations are now dealing with complexity beyond human scale, including:
Lack of visibility
75% of global technologists say they now face more IT complexity than they have ever before.
What is monitoring, and when it is used?
Before the rise of observability, use-case monitoring was the go-to strategy for detecting system issues. Monitoring approaches typically focus on identifying system problems by tracking key performance indicators (KPIs), system availability, and network utilization. The three main types of use-case monitoring are:
APM
Application performance monitoring

(APM)

works by sampling and aggregating data relating to application and system functioning at specified intervals. This data, which can reveal performance issues, is known as telemetry.

APM looks at telemetry numbers in relation to acceptable parameters and reports the results so that support teams can look for exceptions indicating that action needs to be taken. Common telemetry data can be classified under the MELT acronym: metrics, events, logs, and traces.
Infrastructure and cloud monitoring
Infrastructure monitoring uses automation to gather information associated with the performance of system infrastructure elements. This often focuses on server utilization metrics. Alerts can be sent for server usage that departs from specified parameters to help optimize server utilization.

In some cases, infrastructure monitoring tools are linked to specific products, rather than covering all elements of a system. Infrastructure monitoring reports data from system components that may indicate a problem, but it doesn't offer problem mitigation suggestions.
Network and internet monitoring
Network monitoring

, including third-party services, enables network administrators to receive real-time data related to network function. Tools used to track network functioning typically focus on metrics such as uptime, traffic, and bandwidth utilization.
How do monitoring solutions work?
Often, monitoring solutions will also monitor devices connected to the network. They can detect device failures or connection lapses and provide overall network status updates. Network monitoring tools typically utilize network operation protocols to evaluate network functioning to report on any performance issues detected.
What are some examples of monitoring solutions?
Container and Kubernetes Microservices monitoring baselines and measures health across relevant microservices and containers, including Kubernetes, Docker, and AWS, to increase operational and organizational efficiency. This enables teams to visualize container and Kubernetes environments at a system level and drill down to specific microservices to zero in on issues that affect application performance and reliability.
Why move beyond siloed domain monitoring?
While traditional monitoring solutions still have a role to play for some IT customers, they offer only limited, siloed visibility across the managed and unmanaged distributed applications that impact the overall digital experience. For example, there can be limited visibility for application services, networks, infrastructure, clouds, databases, and logs.
Monitoring tools alert each team when issues occur that impact performance. However, these tools are limited when it comes to informing how performance in each domain impacts application transactions and business. In distributed native-cloud applications, the variety of processes and systems involved makes monitoring alone insufficient to achieve optimal system function.
These are the reasons monitoring isn't enough:
Traditional monitoring only gives IT teams visibility into defining what normal looks like by providing them with baselining, health rules, and alerts when issues arise in their domain.

Users don't see the ripple effect the issues have on the overall app experience or its impact to the business.

Technological expectations are higher than ever. Intolerance for technology breakdowns means IT can no longer rely on tools that are only reactive.

Teams need to manage performance and availability of modern applications across the entire technology stack, including the underlying infrastructure and the user experience.

Meeting end-user demand and expectations for digital services means multiple teams;

DevOps

, AppOps,

NetOps

, InfraOps, and SecOps are all involved in optimizing performance and security of every digital experience.
What is the origin of the term observability?
Observability is a concept originating from control theory, which refers to the degree to which the internal condition of a complex system can be understood if you know just its outputs. According to the theory, the higher the degree of observability, the easier it is to move from diagnosing an issue to finding its cause and resolving the problem.

Observability was originally applied in engineering contexts, where it was used as a way of detecting issues with automated control of dynamic systems.

In the context of modern IT business practices, observability refers to the ability to understand global system function to mitigate issues that impede system operations, both by making proactive changes to prevent problems from occurring and quickly resolving them when they occur.
How do observability and domain monitoring differ?
Observability differs from domain monitoring by enabling users to track multiple processes across complex operating environments. Observability tools identify the factors behind any problems occurring within a distributed system, making them easier to resolve. The most comprehensive of these solutions provide full-stack observability to enable you to gain insight into potential problems across your entire array of applications and infrastructure.

Whatever their scope, observability tools typically link up with instrumentation – measuring tools used to gather telemetry data from distributed systems. This data can be correlated to enable time series visualizations providing context into events occurring within the system.

Additionally, automated alerts can be enabled to provide system operators with notifications when outages or other system incidents occur. Machine learning tools can also be used to sift the data to prioritize which incidents are deserving of rapid response by escalating notification status.
Why should organizations use observability tools?
In distributed native-cloud applications, the variety of processes and systems involved can create issues in unexpected ways, so simply monitoring selected metrics is typically not sufficient to detect problems before they occur.

In these systems, requests that involve microservices can set off a chain reaction of messages to related services, making it difficult to use monitoring tools to precisely diagnose what has gone wrong when a system fault occurs.

Further complicating accurate diagnosis of a problem, applications developed using agile methodologies, DevOps, microservices, containers, and other modern development techniques usually involve rapid deployment of application components, often using a variety of programming languages. By tracking a broad spectrum of events related to system function, observability tools can detect potential issues before they impact system deliverables.

The context provided by observability tools enables the appropriate team members to see any changes in system performance across time as well as how those changes are correlated with other changes, often using easily understood visual reports and dashboards. These tools can also report on links between the system elements involved in the problem, identifying interdependencies that should be examined to help resolve an issue.

They also wrestle with overwhelming data noise without the resources and support they need to understand it.

Limited real-time application and business insights 85% of technologists state it will continue to be a significant challenge to cut through noise caused by the increasing volumes of data to identify root causes of performance issues.
Inability to prioritize actions
96% of technologists say there will be negative consequences unless they have genuine visibility and insight into the performance of the whole technology stack and how it impacts application performance.
What are the limitations of domain-specific observability tools?
As useful as observability tools can be, if they don't cover all applications within your tech stack, it can impede your efforts to proactively identify and resolve issues. When these tools lack the ability to provide real-time data from all elements of your system, enabling immediate action when areas of concern are identified, the resulting blind spots can cause unexpected system events.
This can generate problems that aren't detected by your observability efforts, creating the type of customer expectations and operational efficiency problems observability is intended to avoid. To provide comprehensive system optimization, observability tools should be able to work with all frameworks and languages present in your environment, including your container platform and any other relevant applications.
What is full-stack observability?
Full-stack observability includes the standard elements of observability plus additional features that enable you to monitor all aspects of your system across apps, networks, and infrastructure. Full-stack observability takes an evolutionary step beyond traditional monitoring that's siloed by domains. Cisco's approach provides full-stack visibility, insights, and actions from the API all the way to the bare metal, across all data types.
Full-stack observability provides a comprehensive view of distributed environments, allowing you to determine where a system fault has originated and resolve the issue without delay. By recording how different elements of complex systems interact, the practice enables you to resolve performance issues more quickly and to identify areas of concern before problems arise.
Full-stack observability helps achieve the objective of optimizing the development and management of distributed cloud-native environments and applications.
Full-stack observability software solutions are designed to integrate with all applications within your stack. They should work with all frameworks and languages present in your environment, including your container platform and any other relevant applications. This allows them to collect information across stacks and operating environments to provide timely, comprehensive, and accurately filtered information to IT teams.
What are the benefits of full-stack observability?
Full-stack observability lets you know where a problem has occurred, why it happened, and prioritizes the actions you need to take based on the impact to your business.
This key benefit enables you to optimize performance, cost, and security across hybrid and multi-cloud environments for traditional and cloud native applications. The ability to gain insight into the internal condition of an application, along with precise data pertaining to system errors, makes full-stack observability a key factor in delivering better results.
The benefits of the approach can be summarized as follows:
Enhanced alerts
Developers can become aware of issues faster and receive more granular data relating to changes that have occurred in a system, making it easier to quickly resolve any problems.
Improved system visibility
Gaining precise data in real time regarding which applications are at fault when system performance suffers helps developers narrow down exactly where problems have occurred, or system performance has degraded.
Increased development speed
The rapid problem diagnosis and resolution engendered by full-stack observability helps speed up software development, offering cost savings and giving developers more time to focus on offering improved product features. Providing developers with an enhanced global view of their entire system architecture, including third-party applications and services, helps them gain a better understanding of system performance, which can lead to improved product design.
Upgraded workflows
Visibility into the complete history of a request from beginning to end makes it easier for developers to debug and resolve problems in distributed computing environments. This creates time-saving, improved workflows and eliminates the need to reach out to third-party providers to gather information about app performance or server responsibility.
Improved opportunities for collaboration
Collaboration also benefits from the overall view of a system provided by full-stack observability, giving team members and partners a better understanding of how its different elements interact and how the system performs over time.
This allows system operators, developers, analysts, engineers, and project managers to work together more easily to solve problems, understand system performance, and improve system design. All interested parties can review the detailed records of system faults these tools generate, helping avoid disagreements over the causes of problems within a system.
www.nsi1.com | 888.247.0900